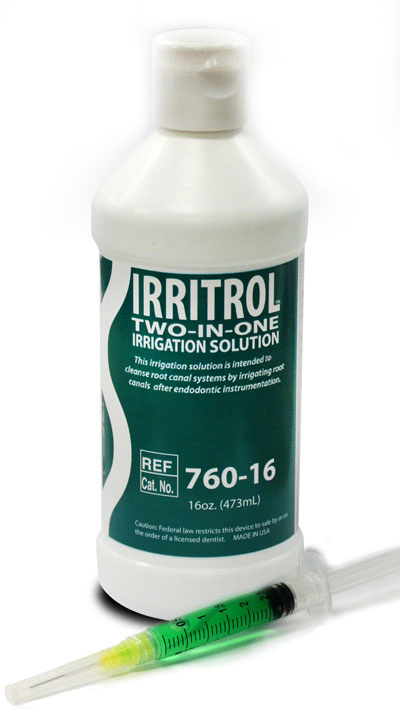 Irritrol eliminates the need for separate step irrigation of EDTA and CHX irrigation. Irrigate and rapidly disinfect the root canal - Independent testing showed that Irritrol had a disinfection rate of 99.99%* Irritrol removes the smear layer less aggressively than conventional irrigants, therefore causing less demineralization of the dentin* Irritrol's green color ensures easy identification for the dentist and assistant during the irrigation procedure
Irritrol
---
Irrigate, clean and rapidly disinfect the root canal in one step!
Irritrol is a single step disinfecting endodontic irrigation solution, used as a final rinse after sodium hypochlorite. Irritrol effectively disinfects, removes the smear layer, and is gentle on dentin. This single step solution efficiently removes the smear layer less aggressively than conventional irrigants, therefore causing less demineralization of the dentin. By incorporating this single step solution into your practice you will work faster, smarter, and more cost effectively -
Now you can save time and money over using EDTA and Chlorhexidine sequentially.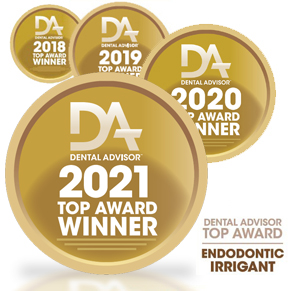 Irritrol was evaluated by 25 consultants in 424 uses and WON THE TOP AWARD IN 2018.
*Independently confirmed by Nelson Labs;Time kill study protocol #STP01
- Guzman J, Wan J, Deutsch AS, Musikant BL. Antimicrobial effectiveness of two endodontic irrigants on Enterococcus faecalis. J Dent Res 94(Spec Iss A):3807, 2015 (www.iadr.org).
- Wan J, Guzman J, Deutsch AS, Musikant BL. Chelating ability of two dual-purpose endodontic irrigants. J Dent Res 94(Spec Iss A):2367, 2015 (www.iadr.org).